IDEA HACK-2018
December 10, 2018 @ 8:00 am

-

December 11, 2018 @ 4:00 pm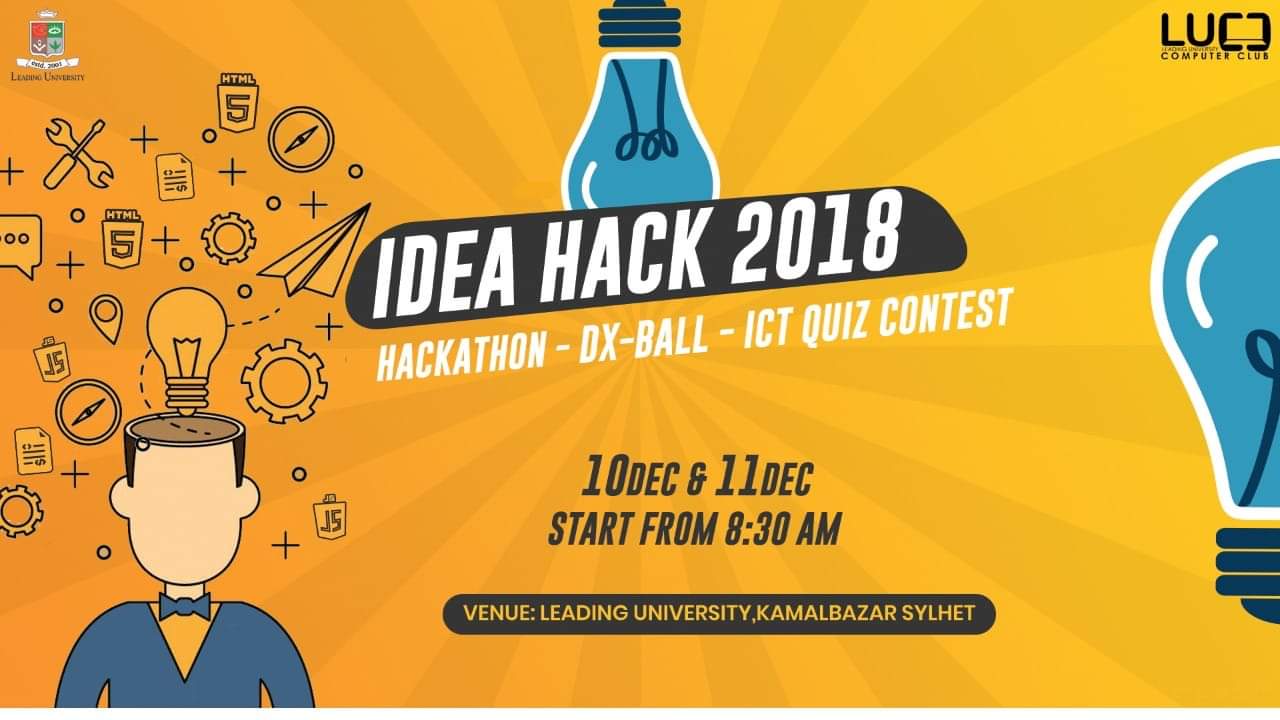 ***IDEA HACK 2018**
* Participants for Hackathon***
Greetings everyone,we are cordially inviting you all to participate in one of the most exciting events of our event "IDEA HACK 2018".Show your coding skills,imagination,problem solving ability in real time to snatch the prestigious title.
Subject:
As the goal of hackathons are to finding solutions to problems, it is expected that the project serves some purpose or solves a real life problem using technology.
**Platform: Android or Web
**Duration:24 hours
**Venue :Leading University, Sylhet
**Team Size :upto 4 members
*Team eligibility*
1. All the members of the team must be a current student of the same university .
2.The final participating teams will be selected after scrutinizing their project proposals.
3. Must be a student of LU, SUST, NEUB,SEC, MU, SPI, SAU & SIU.
***What We Will provide***
** Breakfast, Lunch, Dinner & refreshment for all contestants.
** Certificate for all contestants.
** T-Shirt & Kits for all Contestants.
** Bus Service
** Internet Facilities
*Registration Fees*
Registration Fee 2000.00 BDT per team
For Bkash: BDT-2040
***Important Dates**
26 November 2018 : Registration Start
7 December 2018 : Registration Close
10-11 December, 2018 Final Contest
Rules:
• Participants are required to bring their equipment (hardware /software) and all other necessary equipment which are needed to build the project. The organizing committee will NOT provide any equipment for the project.
• Participants must make their project after arriving in the event. Since it's a hackathon, participants are expected to build and develop the solution during the time of the event. Fully fledged project, hardware or software, will not be allowed.
• After the final development there will be a presentation session. Each group has to present their project and they will be marked/judged accordingly by the judges.
• The judges preserve the right to make changes in any rules during the time of the event..
**Online Registration**
https://goo.gl/forms/IVikFb71S57grHfr2