Leading University Model United Nations 2018
February 8 @ 8:00 am

-

February 11 @ 4:00 pm

TK2500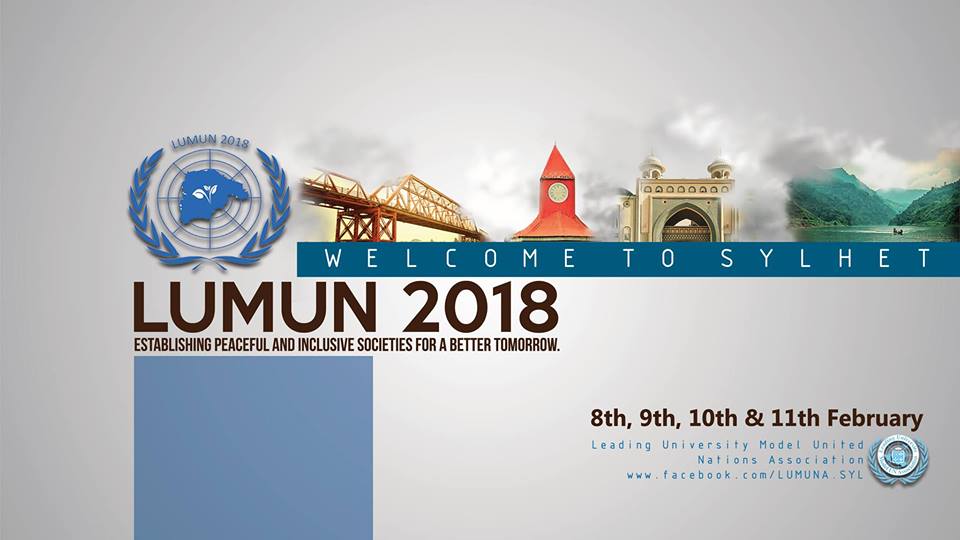 "Our voices are our most powerful weapons.''- Malala Yousafzai
"As the young leaders of tomorrow you have the passion and energy and commitment to make a difference. What I'd like to really urge you do is to have a global vision. Go beyond your country; go beyond your national boundaries"- Ban Ki-moon
Dear MUNers, after the success of the very first MUN in the green and holy city of Sylhet – LUMUN 2017 Conference, Leading University Model United Nations Association (LUMUNA) proudly welcomes you to the second edition of LUMUN, largest Model UN Conference in Sylhet namely, Leading University Model United Nations 2018 Conference (LUMUN 2018), where Leading University Model United Nations Association is the pioneer Model UN Association of Sylhet. LUMUNA has imprinted the MUN culture in the North-East Region and its name in the history of Bangladesh. LUMUNA wants to carry its legacy in the MUN circuit through this conference.
LUMUN'18 is the most anticipated MUN which will be held on 8th, 9th, 10th and 11th of February. This upcoming Model UN Conference will have more battles of diplomacy and will carry a series of negotiations which will help us to find the true Leaders of Bangladesh.
We hope that LUMUNA encourages participants not only to learn something about the countries and positions they represent, but also, perhaps, to discover something about themselves and grow from their discoveries. Ultimately, our goal is to provide delegates with a selection of equally engaging, equally rewarding, and all the more memorable committee experiences. We sincerely hope that we offer an exciting committee for each and every delegate, without the passion and interests of whom the conference would have no meaning.
The committees are as follows:
1) United Nations Security Council (UNSC)
2) United Nations General Assembly First Committee: Disarmament and International Security (DISEC)
3) United Nations High Commissioner for Refugees (UNHCR)
4) United Nations Human Rights Council (UNHRC)
5) International Labour Organization (ILO)
6) United Nations Development Programme (UNDP)
7) World Health Organization (WHO)
8) International Court of Justice (ICJ)
9) Specialized committee for Bangladesh Affairs (SCBA)
10) International Press
For delegate registration :
Early Bird registration: BDT 2000
Date: 1st October 2017- 15th November 2017
(CLOSED)
Regular registration: BDT 2500
Date: 15th November 2017- 15th January 2018
National Delegate Registration Link: http://bit.ly/2x4Stth
Final Phase Delegate registration: BDT 2700
Date: 25th January 2018
For International Delegate: USD 75
Date: 25th January 2018
International Delegate Registration Link: http://bit.ly/2kaT46I
For Campus Ambassador :
Date: Closed
Registration LInk: http://bit.ly/2hIaoyW
For Executive Board Member
Date: 15th January 2018
Registration Link: http://bit.ly/2BbhQuw
Payment Methods:
The payment can be made in two ways. Delegates can complete their delegate registration process through Banking or we will accept your registration fee(s) through our Economic team.
(A) Inkiad Zaman bKash Transaction Number -01717019317
(B) Md. Ezaz Chowdhury bKash Transaction Number -01727754536
N.B. All are bKash personals.We will match Trx ID with your registration so please keep it safe. Send your Trx ID lumun2018@gmail.com
Bank Account No.
A/C Name: Ahnaf Tahmid Zaman
A/C Number : 121.105.21051
Contact Number: 01748308879
Dutch Bangla Bank LTD.
After sending the registration fee through bank, please send
scan copy of your Payment receipt to lumun2018@gmail.com
N.B: Once Delegate registration payment is done, there will be no refund.
As soon as you are done with your payment through any of the above Bkash number, please send a confirmation text to +88 01717019317 and also to +8801727754536 or lumun2018@gmail.com (here you will have to send the message to the number through which you have completed the payment) mentioning the following information:
1. Your name
2. Name of your institution
3. Bkash Transaction ID
4. Your Email Address
5. Your Mobile number
To contact with us, send email to
lumun2018@gmail.com
Cell:
+8801684792294
Stay tuned to this page for more updates !